05 Sep 2018 07:35 pm
Posted by Dave under Dave's Thoughts
A couple of years ago, before our trip to Europe, Brenda thought that getting a Fitbit would be fun and a way of motivating ourselves to be more active. Not wanting to be left behind in the acquisition of new technology, I got one too. This despite the knowledge that where there is data, Excel cannot be far behind. I'm not so sure that "fun" and "motivating" were very good descriptors – especially when the popular target is 10000 steps a day and the technology simply mocks you for falling short.
So, a few months ago a the start of May, the Global Corporate Challenge rears it's ugly head at work – keen, fit younger people at work are looking for victims participants to join up in teams of 7 for a 100 day long fitness challenge that is predominantly based on walking steps per day (although biking, swimming and other sports can be included by conversion to steps). So I sign up.
First thing the program asks a bunch of health and lifestyle questions, including how many steps walked per day on average prior to the start of the challenge. So I dig into the Fitbit data and it turns out that in the first 4 months of 2018 I've averaged about 7500 steps/day. This isn't too promising – I need to do 1/3 more walking to get to 10000! Too late to back out though, I determine to give it a solid try and manage to average about 11000 steps/day over the first month. I'm pretty pleased with myself!
Until I start to realize that my team (remember those keen, fit younger people?) are killing it and I'm kind of dragging the team down. One guy (a serious rec league soccer player… say no more) is basically averaging double my 11000. Bah. I needed to try harder. Well the graph tells the tale: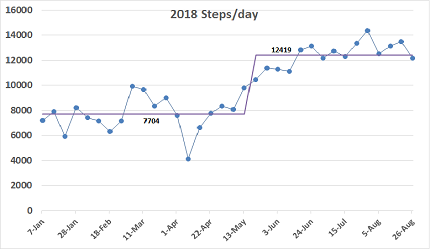 By the end of the summer, I'd managed to not embarrass myself too much and ended up with an average of almost 12500 steps/day over the full 100 days – more than 60% increase in walking compared to before the challenge. That made me feel pretty good!
Comments Off on Stepping Up