17 Mar 2011
Posted by Dave under Dave's Thoughts,Geekstuff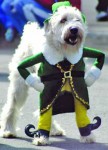 Yep; I'm still at it – today is not merely St. Patrick's Day but also the 8th anniversary of the day I started the license plate game. For those of you following my progress with breathless anticipation, you'll be pleased to know that today I spotted plate 679. Sadly this has been a slower than average year with only 76 plates seen since last year at this time. My overall average is now 85 plates/year or 7.1 plates per month, a slight decrease from last year. I blame the job change mostly – including the fact that last summer I didn't get out for lunchtime walks as had been my practice at my previous job.
One interesting (YES, interesting!) note is that I still haven't counted one of the new format plates yet. They really are just that little bit harder to read and, in the winter when the plates are filthy and the light poor that makes a noticeable difference. Fortunately the vast majority of plates are still the old format.
p.s. We're in the midst of the repainting project, prep today and paint tomorrow. So we had an easy St. Paddy's Day supper: Lipton Noodle Soup dyed green. …the kid's liked it!