19 Feb 2011 08:05 pm
Posted by Dave under Dave's Thoughts,Family,Mr. FixIt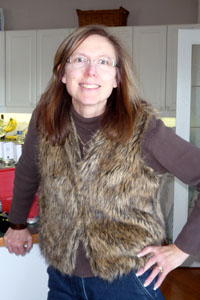 It's been a while since the last post (especially if you missed the 1-day Robbie Burns Day item) so I've got a gallimaufry of topics that I'll lump together here. It's a cold miserable day – again. Brenda is so mad about the groundhog's prediction at the beginning of the month that there will be 6 more months of winter that she appears to have hunted down poor old Balzac Billy and made a nice vest for herself…
Maybe you've wondered where our Sinterklaas post was for this Christmas season (OK, maybe not); well, we were busy welcoming our newest nephew into the family at the beginning of December.  As a result, we held Sinterklaas and Zwarte Piet off by a month and had the annual Langendoen Christmas gathering on the first weekend of January after the new year.  We all met at Ronny and Carla's place outside of Rocky Mountain House and had a great weekend with all of the cousins having a fine time skating and sledding and eating far too many treats that Oma picked up at the Dutch store.  We had a fun weekend and, despite the serious blizzard that swept across southern Alberta that weekend, none of us had any trouble on the roads. Anyway, here are a few pictures:

During one of the cold snaps that we keep having this winter, I noticed that I'd start the van (2002 Mazda MPV) up and the radiator fan would immediately start running on high, even if it was -28°C out. A few days after that, the fan started randomly running on high at any old time. A little trouble-shooting and
googling
uncovered the fact that the fan control module was the likely culprit and that it was the subject of a recall to replace it. So I took it to a Mazda dealer only to find out that it had already been replaced on our van. So I shelled out $100 for a new one and then waited 2 weeks for a day nice enough to do the repair outside.
It's not too bad of a job, but I had to pull the battery and the battery tray out to gain access to the three wiring connections. All three were a pain to disconnect – 5 years of accumulated grit always makes separating under-hood connectors difficult. Once that was done the swap was pretty simple. The new module has a different part number than the old one, so I hope it's improved.
One trick that I'd heard about when disconnecting a car battery is to use an automotive "settings keeper" to preserve the vehicles computer settings and radio presets. This prevents the computer from forgetting the various bits of data that it uses to optimize settings for fuel economy and performance and maybe saves a bit of gas for the few weeks after the repair. I couldn't find one locally, so I made my own. Sadly, it didn't work. After the repair was done the radio presets were lost. I think that the 9V battery couldn't keep up in the cold. Next time, I think I'll try wiring a 12V wall-wart transformer to the cigarette lighter adapter, rather than the battery.

The kids have this coming week off school, so we are hoping for a bit of a chinook and maybe we can take the opportunity to have a family outing – maybe a day in Banff? Or at least an afternoon matinee in a nice warm movie theater if the weather won't cooperate.
…it seems that miserable groundhog got what he deserved…
Leave a Reply
You must be logged in to post a comment.