02 Jul 2013
Posted by Dave under Dave's Thoughts,Family
On Saturday,we spent the morning touring about St Catharines – first stop was the Avondale Dairy for ice cream. When Brenda was a kid, her folks would take her and her brothers to get ice cream each June to mark the end of the school year. Brenda would always get a banana split. So that's what she got this time, too. The kids all had tiger ice cream in cookie dough cones.
From there we did a bit of touring around the town stopping to see Brenda's old home on Vine St, her elementary school and the street where she had her paper route. In the afternoon, we drove out to Beamsville to Brenda's cousin Connie's place. Brenda has over 50 first cousins on her dad's side of her family and they had a reunion. 23 of the cousins were able to attend. Brenda had quite a fun afternoon and evening reconnecting with some cousins that she hadn't seen for many years.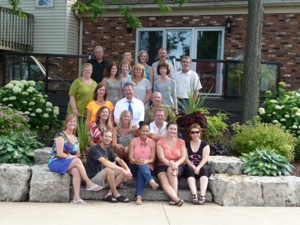 Sunday was our travel day. After checking out of the motel, we had a bit of time to drive past a few other places in town. The first two houses where Brenda lived, the two houses where her grandparents had been and the church where we were married. And then we were off to Toronto to catch our flight to Ottawa.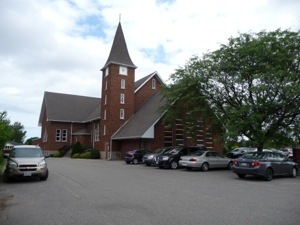 At the gate for our flight we ended up sitting down right across from one of Brenda's cousins from her Mom's side who was flying home from Edmonton with her husband. It was quite the unexpected pleasure to see them and even nicer to be ale to spend the evening visiting with them at their home just south of Ottawa.
On Canada Day,we got up and going to see all of the action in and around downtown Ottawa. The crowds were huge and there were street performers, displays and food carts of every kind. Most of the streets were closed to car traffic and the entire city center was one giant pedestrian mall. Most of the galleries and museums were free admission for the day. So we struck our own commemorative medallions at the mint and toured the national gallery. By 5:00, we were foot weary and headed back to the hotel for dinner and a bit of a rest. The kids all went swimming at the hotel pool and then we decided to just stay at the hotel and watch the fireworks from our balcony, rather than dealing with the crowds in the dark.