27 Jun 2013 06:55 pm
Posted by Dave under Dave's Thoughts,Family
Today we took a trip down memory lane on a moped- with stops at the drama club, McDonald's on Memorial and Montego Bay.   After arriving in Toronto late last night we were off to Orillia for the day. Brenda lived in Orillia during high school (grades 9 to 12).  So it was a bit of a trip down memory lane – Brenda hadn't been back since the summer after she graduated.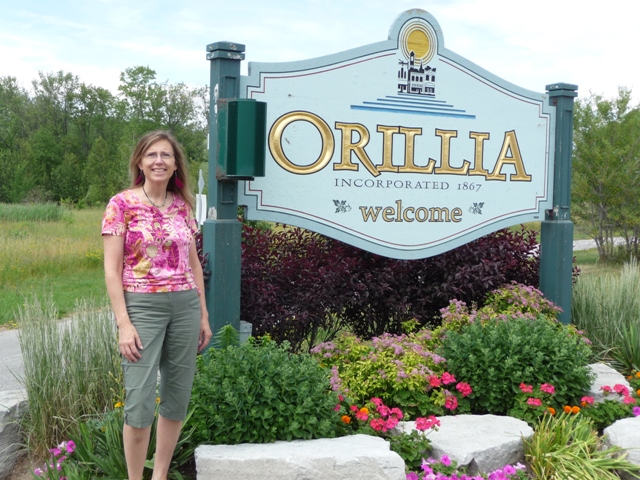 We started off dropping by ODCVI, the Orillia District Collegiate & Vocational Institute and were able to tour the building which hadn't changed appreciably.  It was so cool to see Brenda recalling some of the events & things of that time, and even chatting to the current drama teacher. It was fun for the kids to imagine their Mom in school! We even got a brief rendition of Brenda's "Montego Bay" performance on the stage of the girl's gym.
The next stop was out of town to Weber's for burgers then we drove past the two houses where Brenda had lived with her family – Lankin Blvd in town then out by Lake Simcoe on Orkney Beach Rd. Brenda told the kids about how she had to use a moped to get back into town whenever she had work or youth group – and, because the top speed was less than 50 km/hr, how she had to take the long way on side roads.
We spent an hour walking around downtown – to the Opera House where Brenda was an usher, past the old Sam's record store location. Finally, on the way out of Orillia, we stopped at the McD's where Brenda worked for 4 years and got drinks for the road.
Once the nostalgia tank was full we headed for St Catharines where we will be for the next few days.
Leave a Reply
You must be logged in to post a comment.