27 Oct 2013 02:14 pm
Posted by Dave under Book Review,Dave's Thoughts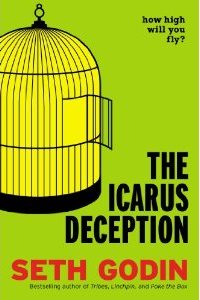 The Icarus Deception: how high will you fly? by Seth Godin, 2012, Portfolio/Penguin (ISBN: 978-1-59184-607-9)
I know, Seth Godin – again. It's not that I go out of my way, but with life being busy, Godin's writing style is easy to pick up and put down. In the case of this book, this strength is also a weakness in that the content feels quite repetitive. About halfway through the 240 pages it felt like there were just too many repetitions of earlier content. Godin's style seems to have a "sound bite" quality that, for me, made it difficult to stay focused on the slowly developing theme of the book.
The good news is that Godin's theme does resonate. The essence of the book is that as we have transitioned from the mid-20th-century manufacturing economy through the knowledge economy and look towards a "connection" economy the skills and abilities that are needed to thrive have changed and continue to change.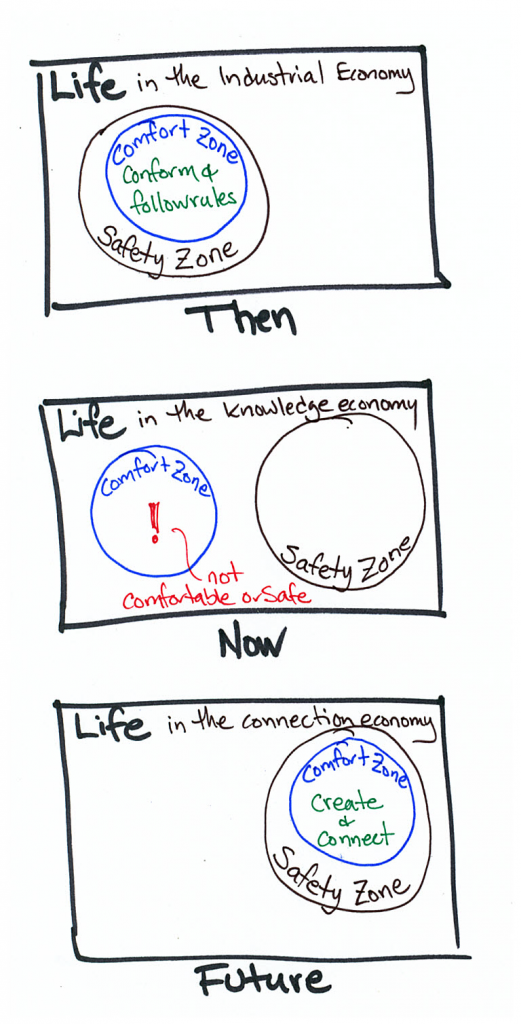 The command and control work world, with it's strict hierarchy of leaders over managers over workers, has had a defined safety zone (behave like this and you will have "success"). Naturally, people align their lives and behaviours to keep their personal comfort zone within that safety zone. The "safe" behaviours have emphasized staying within the fences of following the rules, waiting to be noticed, accepting "cost of living" wage increases – being a reliable cog in the industrial machine.
But, the safety zone has moved. My Dad worked for one company for 38 years and then retired with a great pension. I have had 14 different jobs since graduating university and no pension at all. My kids? Who can say? Clearly, though, they will need the ability to innovate, create, build relationships and find connections in order to find success. In Godin's terms, this is art. Not painting or sculpting – art in the sense of seeing differently and creating something that connects with others.
I see this all the time in my work, improving processes for engineering or project management depends critically on being able to get into other people's shoes and then to develop new or different ways of working that really address the issues that cause ineffectiveness and frustration. It isn't strict technical competence that will be required tomorrow, but the ability to apply that competence in creative ways that connect, add value and build relationships.
As the industrial age peters out, as the growth fades away, the challenge is this: training creative, independent, and innovative artists. We can't use the old tools, because resorting to obedience to teach passion just isn't going to work.
Leave a Reply
You must be logged in to post a comment.