16 Feb 2014 02:32 pm
Posted by Dave under Dave's Thoughts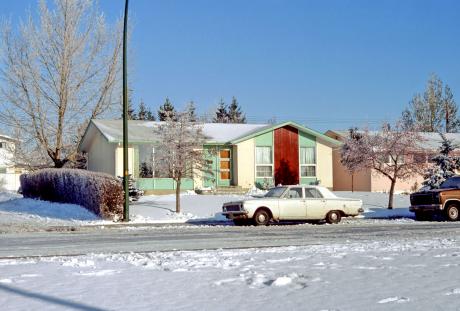 This is the first car that I ever owned. It's a 1963 Valiant – the one with the 225 ci slant-six engine and push-button automatic transmission.
I was sorting through some of our older digital camera files and scans and stumbled across this picture, taken in front of my folks place in November 1984. The car had been in the family since my grandfather (on Dad's side) bought it new. At some point my Dad bought it from my grandfather and it was the first family car that we had that I can clearly remember. I think we had it for 5 or 6 years from the late 60s. Eventually, Dad sold it to my grandmother (on Mom's side) who eventually sold it to me when I graduated from high school.
I'd had the car for about 3 years at the time this picture was taken and had been using it to get back an forth to the University of Calgary. About 4 or 5 months after this, I sold the car (outside the family!) and bought a MG Midget. I still have the Midget.
Interestingly, the brown F150 at the right side of the picture was my Dad's work truck. When Dad retired, he was able to purchase the truck from the company and it went to my brother Brian. After a few years, Brian sold it to me and we drove it up in Cold Lake for a couple of years, selling it a little before we moved to Australia in 1996.
Alternative Image Formats
Get the main post image in larger sizes:
Leave a Reply
You must be logged in to post a comment.