17 Mar 2016 11:25 pm
Posted by Dave under Dave's Thoughts
Yes.  It's like Zeno's paradox – the number of plates left to find keeps going down, but the end remains stubbornly remote.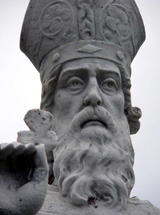 The CNPS game continues at a slower pace than ever before – this year a miserly 35 plates were added to the total.   That's half of the long term average since starting in 2003. After 13 years the total is now at 900 (previous years are recounted in posts linked by the CNPS tag).  The overall rate has been drastically affected by not just the transit-based commuting, but also the significant reduction in driving generally after moving into the city.  Last but not least, six months of unemployment is really not helping (and it's not just the CNPS that is really hurting…).The alignment with St Patrick's day may not be just a coincidence – the lack of progress is like being pinched and it could drive one to drink!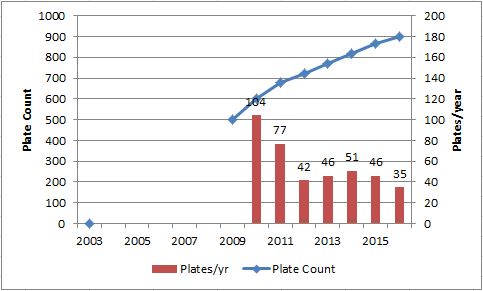 Speaking of St Patrick's day – there is not much green about today.  We got up to a nice fresh dump of snow – last week I was marveling at the tulips sprouting in the garden and today I shoveled the sidewalk.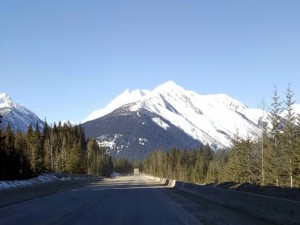 Brenda has had the better day – she is off to the west coast today to attend Fibres West with our friend Karie who runs Big Blue Moma, a retailer of amazing jewelry made from glass beads, woven baskets and fabrics – all sourced from Ghana. While Calgary was overcast with cold wind, Brenda and Karie were driving through the spectacular Rockies. Fibres West runs Friday and Saturday in Surrey, BC – if you are in that area be sure to look them up and buy a basket – or two.
Comments Off on Are you still looking at license plates?!