08 Oct 2007 10:45 am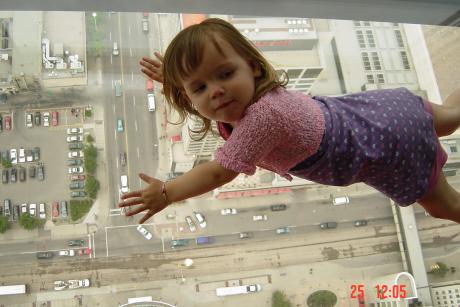 This is one of my favourite pictures of Alyssa, who is about 2½ in this picture. We went up the Calgary Tower on the morning that they opened up the new glass floor that looks straight down 525 feet to the intersection of 9th Ave and Center St. The glass was unblemished and standing on it was a little vertigo inducing – except for Alyssa, she loved it! This was all to the twittering dismay of two elderly tourist ladies who were nearby but who wouldn't venture close to the glass floor.
Alternative Image Formats
Get the main post image in larger sizes:
One Response to "One of my favourite pictures"
scott on 09 Oct 2007 at 10:25 pm #

Wow, nice photo in the header banner! Who is the talented (and obviously fit) artist who took it??
Leave a Reply
You must be logged in to post a comment.