17 Jul 2009 12:24 am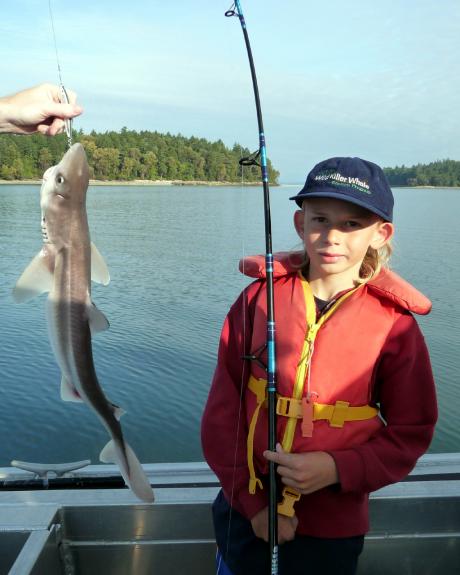 This morning we were up before 5:30 am to head down for the waterfront. Brenda had signed up for the kayak tour while Mark and I had been picked for the early morning fishing trip. Steven and Alyssa were too smart to get pulled into these kinds of early morning shenanigans and so they slept in and met up with us at breakfast time.
The kayaking tour was apparently quite nice, calm waters, bright sunshine and blue skies all around. Brenda saw quite a few seals and even a bald eagle perched on the shore. The pace was relaxed and Brenda thought it was a fine way to begin the day.
Mark and I had a great time fishing. We headed south to the east side of Tent Island where the 7 of us on the trip dropped our hooks. We must have been in a good location because we landed 2 fish (rock cod) within the first few minutes. After that someone caught something at regular enough intervals to be interesting but not too much to keep our guide from catching a few of his own. Mark actually had the biggest catch of the day – a mud shark about 18 or 20 inches long. He was very excited about that! I actually caught the largest rock cod of the day at about 3 lbs or therebouts. We were just out for the fun, so we tossed everything back. The oddest catch of the day wasn't the jellyfish, or the starfish, but the 6 inch crab that our guide pulled up! It was fighting mad and not that easy to unhook, with its pincers snapping away like crazy.
The rest of the day was very full with loads of activities for all of us, the boys got a double tube ride around the bay pulled by the speedboat and I did some snorkeling while Brenda relaxed on the beach and Alyssa collected shells. In the evening there was an outdoor cafe time with cappuccinos, lattes and fancy hors d'oeuvres – what a great way to spend our last evening here.
Alternative Image Formats
Get the main post image in larger sizes:
Leave a Reply
You must be logged in to post a comment.