24 Aug 2009 10:56 pm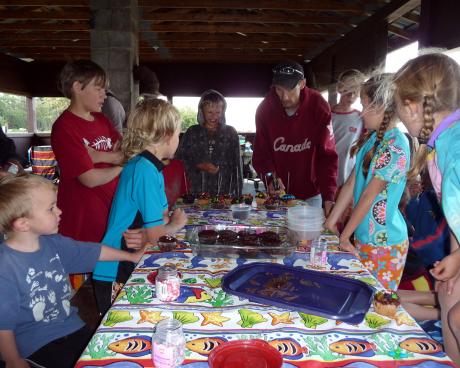 With the ever increasing number of cousins on the Langendoen side of the family (14 now, ranging from 7 weeks to 13 years old), we decided last year to have one big birthday bash in the summer time. This way we can all get together and celebrate how the kids are growing and maturing without the logistical problems of multiple parties being planned. Each of the cousins draws a name and buys one present and receives one present and we choose a location where we can all be together and enjoy an entire day.
This year we chose to return to the campground at Cow Lake Recreational Area, where we had last year's birthday bash. We were unable to get a boat this year and the weather was a little cool and windy, but the kids didn't mind a bit. We barbecued up a bunch of burgers, hot dogs and smokies for lunch, let the kids swim and play in the lake and then it was time for the presents and to warm up by the fire in the day use shelter. The evening was quite nice as the wind died down and we packed up as darkness fell.
We stayed overnight in Rocky Mountain House and had a swim at the hotel before we headed to Barry and Breana's place near Caroline for another feast. We had chicken and salad and garlic bread that had been intended for the birthday bash the previous day, but we never quite got to it! I'm pretty sure there were substantial leftovers even after all that additional eating.
Uncle Ronny brought his little quad and mini-bike over and, along with Uncle Barry's trike, the kids all got rides around the acreage. It was quite a good day and by the time we got home in the early evening all of us were pretty tired out and ready to thunder in early.

Alternative Image Formats
Get the main post image in larger sizes:
Leave a Reply
You must be logged in to post a comment.