03 Dec 2007 06:17 pm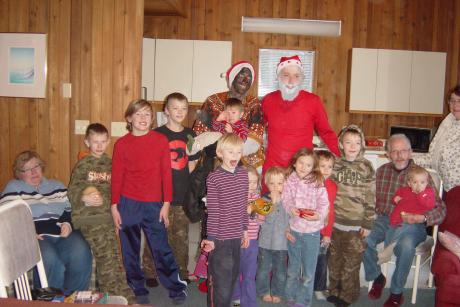 We just got back from a great little family getaway in the mountains. All of Brenda's side of the family gathered together at a wonderful resort out near Dead Man's Flats for the family Christmas gathering.
We decided, this year, to find a place where all of the cousins (12 of 'em), aunts, uncles and Opa and Oma could gather together and have lots of things to do and room to play. In previous year's, we've held the family Christmas get-together on Christmas Eve at one of our homes, but the crowd is getting fairly large. Ronny and Carla knew about this resort in the mountains and said that it would be perfect for this year. They were right!

Each family had their own little A-frame chalet and there was a big lodge where we could all eat meals together, play games and go swimming. The timing was earlier this year, but we made it coincide (nearly) with Sinterklaas. Brenda's family is of Dutch descent and her parents have, over the past few years, revived this traditional Dutch Christmas celebration for their grandchildren. The celebration of Sinterklaas comes from the Dutch tradition where, on the eve of the feast day of St. Nicholas, you may find small presents left in your wooden shoes (apparently by Sinterklaas himself, who rides from house to house upon his white horse accompanied by his helper Zwarte Piet). It is a fun opportunity for all the grandkids to learn a little about what Christmas time was like when Opa and Oma were children.
This year we actually had a visit from Sinterklaas and Zwarte Piet, while all the kids were gathered at Opa and Oma's chalet. While Sinterklaas read from his big red book a little something about just how good each of the children had been during the year, Zwarte Piet pelted the crowd with pepernoten. We all filled up on Tai Tai, dropje and chocolate before heading over to the lodge for big, rich brunch of pofertje (small crepe-like pancakes) – another Dutch tradition.
We all had a bunch of fun and are already talking about doing the same again next year!
Alternative Image Formats
Get the main post image in larger sizes:
Leave a Reply
You must be logged in to post a comment.