17 Dec 2017 10:56 pm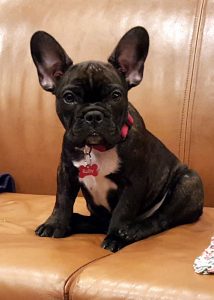 After losing Chloe so suddenly in September, we thought it would be a while before we would be ready for another dog in the family. However, life doesn't always unfold the way you think it might. We all really felt the absence of Chloe, whether her greetings in the morning as we came down to the kitchen or when it was family movie night and she wasn't there to snuffle up the dropped popcorn. The gap left by Chloe was felt quite strongly by Brenda and, knowing how finding the right puppy and the right breeder can take quite a while, she started to keep and eye out for French Bulldogs.
The dog breeding landscape is filled with traps for the unwary. At one end of the spectrum are dubious on-line ads for inexpensive puppies – but if you use a wide geographic area in your search, the same litter is advertised as being from Kelowna, Red Deer, Prince George and Saskatoon and the phone number is from Ontario. On the other end of the spectrum are legitimate, but overly intense show dog breeders asking for huge sums of money as non-refundable "expressions of interest" – and a multi-page application more probing than any needed for a mortgage or a job. In between, if you are lucky, you can find breeders who just genuinely are interested in the their breed and have a balanced approach to finding good homes for good dogs.
Even though Brenda was "just looking" when the right dog showed up, well, events just took on a life of their own! The litter was well cared for and well socialized, the asking price reasonable and the timing just right to allow the pup to adjust to our routines before the Christmas holiday. So, last Friday (8 Dec) we picked up Ruby – a black/brindle Frenchie about 11 weeks old. The brindle in her fur is a reddish ginger colour, so that's how she got her name. She is very cute – full of energy and always looking for something to chew on. At this point it seems that her ears are full grown but her head is not!

Comments Off on Ruby